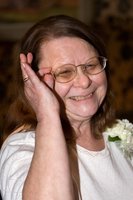 Nancy A. Brown
On Saturday, March 24, 2018 Nancy A. Brown (Bombard), passed away suddenly at her North Chili home, at the age of 61. She was a loving wife and mother.
Nancy was born on June 14, 1956 in Spencerport, NY to Donald and Catherine (Usselman) Bombard. She went to Spencerport School until her graduation and then went on to work at Case- Hoyt. On June 23rd, 1979 she married the love of her life, Greg Brown. Together they raised their son Michael.
Nancy loved her cats, she treated them like her children and loved to tell funny stories about their day. She also liked watching the birds out of her windows and growing plants on her balcony. Also, she participated in envelope decorating, you would always know when Nancy sent you a card. She never met a stranger. Even during a trip to the store, she would stop and talk to everyone she met. Greg, Nancy and Michael went on several trips to Disney World and she would proudly wear all things Mickey Mouse. Nancy enjoyed playing with her Grandsons, racing in the yard, riding the carousel or playing the new games that they enjoyed so much.
Nancy was preceded in death by her father, Donald, and her mother, Catherine. She is survived by her husband Greg, her son Michael (Casey) Brown, grandsons Brenden Gardner and Devin Brown, her brothers, David (Diane) Bombard, Edward (Carol) Bombard, sister Lorie Drayton, several nephews, nieces, cousins and friends. Calling hours are going to be Monday April 2, 2018 from 4-5 pm, with the Memorial service beginning at 5pm, at Thomas E. Burger Funeral Home, 735 East Avenue Hilton, New York, 14468. Due to the suddenness of Nancy's passing the family would appreciate donations for funeral expenses in lieu of flowers (at this link - https://www.gofundme.com/nancy-a-brown-funeral-cost )
Thank you!