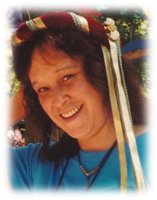 Audrey V. Eldridge
Hilton: Audrey V. Eldridge passed away on Monday, March 12, 2018 at the age of 58. She was predeceased by her parents, Frederick &
Esther Cornell and her brothers, Ricky Lee & Ray Cornell. She is survived by her husband, Luke Eldridge; her daughter, Jody Pfaltzgraf-Burch; her step-son, Dillon Eldridge; her sisters, Estra (Jim) Weaver & Stacey Cornell (John Carlin Jr.); her grandchildren, Micah, Celeste & Ciara Pfaltzgraf-Burch and Cecelia Burch; her great-grandson, Silas Mumpton; and several nieces and nephews.
Family and friends are invited to call on Saturday, March 17th from 1 - 3 PM at the THOMAS E. BURGER FUNERAL HOME, INC., 735 East Avenue in Hilton. Interment will be held at the convenience of the family. In lieu of flowers, donations can be made to St. Jude's Children's Hospital, PO Box 1000, Dept. 142, Memphis, TN 38101.