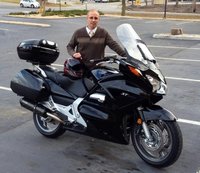 Thomas A. Meritt
Thomas A. Meritt: February 23, 2018
Everyone here at the Thomas E. Burger Funeral Home and Greater Hilton community was saddened to hear of Tom's passing. He came to work at Thomas E. Burger Funeral Home in 1992. He was an excellent addition to the staff and continued his service here through 2002. He will be missed by so many of the families he has served over his career as a compassionate funeral director here and at the Oakey's Funeral Service in Roanoke, Virginia.
Thomas Burger: "Tommer played a big part during the "golden years "at Burger Funeral Home when we all worked together to earn national recognition as a National Funeral Director Association Pursuit of Excellence funeral home. Tom had a very special way of helping grieving individuals face the reality of death knowing just the right thing to say and do. He left his mark on the greater Hilton community, and I am told by the staff at the Virginia funeral home where he currently worked that he had continued to conduct himself in a similar manner. As saddened and bereaved as we ALL are....we can be enlightened to know that he left this good earth doing what he loved to do. So Tommer keep things stirred up in Heaven with the roar of your heavenly motorcycle. We will always cherish the memories you left us."
Doug Sholette: "We started our journey as Funeral Directors way back in the early 90's. We were completely different, but worked so well together. Always striving to push each other to new levels, in regards to helping families during the most difficult times in their lives. Losing a dear loved one. He was so good, sometimes I was envious. But his values, serious attitude, along with his witty, hilarious personality always gave you that great feeling to work to be a better person and Funeral Director. Rest well my friend!!!! Love ya."
This is the obituary from the Oakey's Funeral Service website.
Thomas A. Meritt, age 49, was called Home on February 23, 2018. His work on Earth was done. He is survived by his wife and high school sweetheart, Lisa; and two sons, Aiden and Colter; and step-daughter, Sienna; His mother and father, Linda and Tom Meritt; sisters, Carrie (Eric) Hartman and Amy (Scott) Zimmerman; and five nephews, Phillip, Matthew, JT, Jake, and Nathan. He is also survived by his mother and father-in-law, Kathy and Larry Edwards; and sister-in-law, Carol Lea Payne. Tom was loved by many, including his friend and riding partner, Tim Gettier; and his long time feathery companion, Bubby.
Tom lived large with everything he did. His love for motorcycles was endless, as was his love and dedication for the families he served throughout his life. He lived without fear and accepted its consequences, therefore, never hesitating to take the leap, wherever he may land. He rode full throttle to whatever the next day would bring, never looking back on the road behind him. He lived as he rode, free, with a child-like spirit and contagious smile, that he shared whole heartedly with his sons, and those fortunate enough to be around him.
A celebration of life service will be held 2:00 P.M. Saturday, March 3, 2018 at New Covenant Christian Church with Pastors Melvin Poff and Chris Kingery officiating. The family will receive friends one hour prior to the service and for a time after the service at the church. To honor Tom's memory the family welcomes flowers or donations to the Twin Valley Riders, P.O. Box 3281, Roanoke, Virginia 24015. To offer online condolences please visit www.oakeys.com.