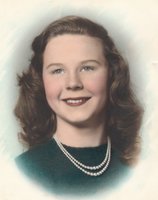 Bessie M. Voorheis
Greece, NY: Bessie M. Voorheis passed away on Monday, February 26, 2018 at the age of 90. She was predeceased by her husband, Ray LaVerne Voorheis (March 7, 2003) and her 2 children, Sheryl Ann & Robert C. Voorheis. She is survived by her children, Randall V. Voorheis, Sandra B. (Dennis) LaBelle and Ray F. Voorheis; her 3 grandchildren, Joseph Voorheis, Melanie Voorheis & Laurie Gurvin; and her 2 great-grandchildren, Emma & Ian. She was also predeceased by her brothers, Robert, Larry & "Bud' Schapp.
Bessie married her true love on Valentines Day 1948 and moved to Town Pump to raise her family. She has now joined her beloved Ray.
Bessie's Memorial Service will be held at the Ogden Baptist Church in Spencerport on Saturday, March 10th at 1:00 PM. Interment will be held at the convenience of the family in Maple Grove Cemetery in Churchville.
In memory of Bessie, donations can be made to Ogden Baptist Church, 721 Washington St., Spencerport, NY 14559.