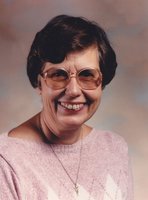 Ann Gronell
Ann Gronell of Hilton passed away on February 12th, 2018 at age 86. Ann was a teacher in the Hilton Central School district for 25 years where she loved both her work and her students. During her long retirement she was an avid golfer and bridge player where she had many wonderful friends.
Ann was widow of Leo Gronell and is survived by her loving children Ann Thresher and Dan Gronell, her son-in-law Ron Thresher, and her grandchildren Ann Caroline Thresher and Harold Everett Thresher.
Our sincere appreciation to Hildebrandt Hospice for their kindness and care. Ann requested that her service be private. In lieu of flowers she requested that donations be made to the American Cancer Society (www.cancer.org/involved/donate.html).