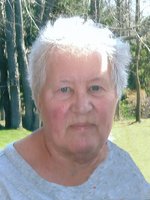 Martha E. Derosia
Hamlin: Martha passed away on Tuesday, January 16, 2018 at the age of 83. She was predeceased by her husband, Roy Derosia and daughter, Terri Sietmann.
She is survived by her daughters, Pam Liberacki, Sandy (Edward) Prince, Judy (John) Nealon, Mary (Christopher) Gavigan & Martha Derosia (Paul Reed); her siblings, Eva Paxton, Steve &Gary Starkey; her 16 grandchildren; her 23 great-grandchildren; and her many nieces and nephews.
Family and friends are invited to attend her Funeral Service on Sunday, January 21st at 2:00 p.m. at the Thomas E. Burger Funeral Home, Inc., 735 East Avenue in Hilton. Interment will be held in the spring in Lakeside Cemetery in Hamlin, New York.
In lieu of flowers, donations can be made to the Walker Bible Baptist Church Sunday School, 425 Walker Lake Ontario Rd, Hilton, NY 14468 in memory of Martha.