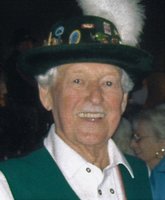 Oscar Reber
Oscar was predeceased by his wife, Jean (1996), his great-grandson, Lucien Militello & his daughter-in-law, Kathryn Reber. He is survived by his children, Carol (Joseph) Hemmerich, Richard Reber, Heidi (Joseph) Spurrier & Merilou (Dean) Rudy; his step-daughter, Sheila Mueller; his grandchildren, Jennifer (John Militello) Hemmerich, Lisa (Kevin) Speciale, Jason (Andrea) Hemmerich, Katheryn (Tom) Morsch, Andreas (Jaycee) Reber, Laura (Alessandro) Sarra, Amanda (Thomas) Battisti, Christopher Spurrier, Zachary, Samantha & Shayna Rudy; his 10 great-grandchildren; and many nieces, nephews, cousins and friends.
Visitation will be held Thursday, January 18th from 4-7 PM at the THOMAS E. BURGER FUNERAL HOME, INC., 735 East Ave. in Hilton. Oscar's Funeral Mass will be Friday, January 19th at 10 AM at St. John the Evangelist, 2400 Ridge Road.
Contributions can be made in memory of Oscar to Shriners Hospital, Damascus Shrine Center, 979 Bay Road Webster, New York 14580.