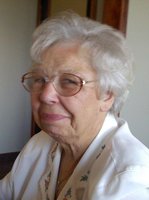 June Letzin
Greece: June Letzin passed away on Friday, January 5, 2018 at the age of 87. She was predeceased by her husband, Wesley Letzin. She is survived by her children, Carl (Joanne) Letzin, Timothy Letzin, Ronald (Lisa) Letzin & Shirley (William) Carson; her grandchildren, James Carson & Brandon Letzin; her step-granddaughter, Nicole Robertson and her 2 children, Jordan & Kobe.
Family and friends are invited to attend her Memorial Service at Hope Lutheran Church on Saturday, January 20th at 1:00 PM. Interment will be held in the spring at St. Peter's Cemetery in Wilson, New York.
Arrangements entrusted to Thomas E. Burger Funeral Home, Inc., Hilton, NY.