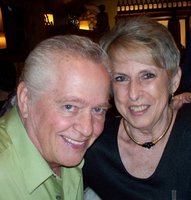 Lee Tubb
Las Vegas/Hilton: Lee R. Tubb passed peacefully in Las Vegas on January 1, 2018 at the age of 71, 25 days after his beloved wife, Jill.
He is survived by his mother-in-law, Alice Brogan; Jill's siblings, Pamela (Arthur) Frisbee, Patrick Brogan, Thomas (Lolly)Brogan, Timothy (Stephanie) Brogan and Leeanne (Michael) Reister. Lee was predeceased by his parents, Charles and Eleanor Tubb and his brother, John Tubb.
A Memorial Service for BOTH Lee and Jill will be held 1:00 p.m. Saturday, April 14, 2018 at THOMAS E. BURGER FUNERAL HOME, INC., 735 East Avenue in Hilton.
Those wishing may contribute to the Humane Society at Lollypop Farm, 99 Victor Rd., Fairport, NY 14450 in memory of Lee and Jill.