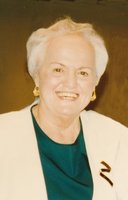 Elizabeth "Betty" Fisher
Greece: Elizabeth "Betty" Fisher passed away on December 30, 2017 at the age of 94. She was predeceased by her husband of 55 years, David Fisher and her step-son, Steven Fisher. She is survived by her daughter, Jackie (Donald) Lemcke; her son, Scott (Lisa) Pundt; her step-children, Sandra Stenglien, David (Beverly) Fisher & Judy (Larry) Campbell; also 7 grandchildren and 5 great-grandchildren.
Betty would like to let you know that her work here is done. She received a call, sort of an offer you can't refuse, for an appointment from which she will not be returning. This assignment comes with a huge sign on bonus - a reunion with family and friends she has not seen in a long time. Job security is actually 110 percent. Her new mission takes her to a wonderful place, where she will be socializing, dancing, gardening and reading until her heart's content. Music, laughter and love are guaranteed. Food is delicious, and you never gain an ounce. She left detailed instructions for her friends and family to celebrate her mission here, which has now been completed.
Services will be held at the convenience of the family. Burial will be held in Parma Union Cemetery.
In lieu of flowers, donations can be made to Alzheimer's and Dementia Research at www.alz.org.
Arrangements entrusted to Thomas E. Burger Funeral Home, Inc., Hilton.