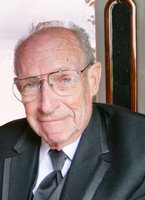 John R. Tagg
Greece: John Tagg passed away on Friday, December 29th at the age of 94. He was predeceased by his wife, Margaret Tagg. He is survived by his daughter, Deborah (Jeffrey) Nellis; his stepchildren, Wendy Kenny, David Stevens, Charlene Morris & Mark (Paula) Stevens; his grandchildren, Jessica, Gina (Sean), Nicole (Mark), William, Ryan, Alyssa (Adam), Kara, Mark, Taylor & Parker; his great-grandchildren, Coledon, Hudson and Harper; and special friend, Joann Boline.
John retired from Eastman Kodak in 1983.
Family and friends are invited to call Saturday, January 6th from 2-3 PM at the Thomas E. Burger Funeral Home, Inc., 735 East Avenue, Hilton, where his Memorial Service will be held at 3 PM. Private Interment will be held in Parma Union Cemetery.
In lieu of flowers, donations may be made to Honor Flight of Rochester, Inc., PO Box 23581, Rochester, NY 14692 or Journey Home, 994 Long Pond Rd., Rochester, NY 14626.