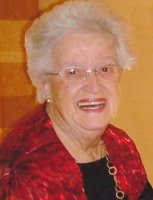 Margaret "Peg" Amo
Margaret "Peg" Amo (Sholette)
Syracuse/Ogdensburg: December 3, 2017 at age 87. Peg was predeceased by her husband, Charles J.; She is survived by her children, Christopher (Karen) Amo, Lorrie (Timothy; deceased) Frawley & Vicki (David) Duprey; her grandchildren, Charles, Brian, & Aaron Duprey, Ashley Amo Taylor, Jillian Amo Spatola, & Paul Frawley; her great-grandchildren, Charles II & Alexander Duprey; and many dear cousins, nieces, nephews & countless life-long friends. She was predeceased by her parents, Edward & Marguerite Madlin Sholette;and her siblings, Allen (Raymonde) Sholette & Anne (Thomas) Dillon.
Visitation hours will be held Wednesday, December 6th at St. Joseph the Worker Church, 1001 Tulip St., Liverpool, NY 13088 from 9:30 - 11 AM where her Funeral Mass will be held at 11:00 AM. Interment will be held in Notre Dame Cemetery, Ogdensburg. In lieu of flowers, and in memory of Peg, donations can be made to St. Joseph the Worker Church Food Pantry (address above) or Francisca Villa, 6900 Buckley Rd., Syracuse, NY 13212.
Peg was a member of the Third Order of St. Francis for 18 years in Edgewater, Florida. She was a Eucharistic Minister / visiting Eucharist for St Gerard's in Edgewater. Peg was a lifetime AT&T Pioneer Member and worked for Birthright Phoneline in Potsdam, New York.
Arrangements entrusted to Thomas E. Burger Funeral Home, Inc. Hilton, New York. www.burgerfuneralhome.com