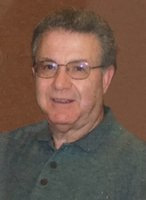 Peter Monfiletto
Hilton: December 2, 2017. Peter Monfiletto
at the age of 78. He is survived by his wife, Cynthia; his children, Peter (Tina), Beth Ann (John Russell), Christopher & Jennifer Monfiletto; his grandchildren, Emma, Vito & Angelina Monfiletto; his sisters, Connie Monfiletto & Mary (Dante) Barbetta; his sister-in-law, Mary Monfiletto; and his several nieces and nephews. Peter was predeceased by his siblings, Lou Monfiletto, Vincenza Curatola & Antoinette Massoni.
Services and Entombment will be held in Holy Sepulchre Cemetery and held privately.
Donations may be made to the American Cancer Society, 1120 South Goodman St., Rochester, NY 14620 in memory of Peter.
Peter came from Castelbouno, Sicily at a young age and lived the American Dream. Peter courageously served in the United States Army from 1963 - 1965, where he met the love of his life, Cynthia. He worked for 42 years at Chemical Bank / Chase Manhattan, where he started as a teller and worked his way to a Vice President position. Peter retired in 1999, and was an avid golfer, patriot and horse racing enthusiast. He was also instrumental in helping start the Hilton Cadets Varsity Ice Hockey Program in 1988.
Peter's proudest and most dedicated time was spent with his family, that he was forever devoted to. Everyone who ever met him could attest that he was a true gentleman. Peter has left a lasting legacy of selflessness, kindness, integrity and devotion. He will be missed by all who had the pleasure to have known and loved him.