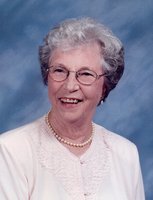 Loretta V. Smith
Loretta V. Smith passed away on Sunday, November 26, 2017. She was predeceased by her husband, William E. Smith (1996). Loretta is survived by her children, Dennis (Sandy) Smith, Deborah Consul, Thomas (Sharon) Smith, Philip (Tina) Smith, David (Janet) Smith and Timothy (Debra) Smith; her 11 grandchildren, Kim Hazelton (Alan), Jennifer Pratt (Tom), Stacey Piano (Don), Nicholas Smith (Kristin), Melissa Riling (Dave), Michael Smith (Jessica), Jason Smith (Amy), Kevin Smith, Michelle Smith, Jessica Smith, and Rebecca Smith; her 14 great-grandchildren, Andrew Hazelton, Emilee Pratt, Steffany Pratt, Samantha Pratt, Isabella Piano, Olivia Smith, Hannah Smith, Tavi Riling, Jesse Riling, Ari Riling, Levi Riling, Paige Smith, Jade Smith, and Wren Smith; and her sister, Evelyn (Jay) Stroupe.
Loretta's Memorial Service will be held Saturday, December 2nd at 11:00 a.m. at St. Paul Lutheran Church in Hilton. Interment will be held privately in Parma Union Cemetery.
In lieu of flowers, those wishing may contribute to St. Paul Lutheran Church Memorial Fund, 158 East Avenue, HIlton, 14468 or the American Cancer Society, 1120 S Goodman St, Rochester, NY 14620 in memory of Loretta.