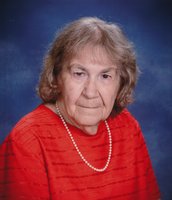 Therese F. Henchen
Therese F. Henchen passed away on Sunday, November 26, 2017 at the age of 92. She was predeceased by her husband, John E. "Sonny" Henchen, Jr. (2004); and her brothers, Peter Foos (1980), Joseph Foos (2014) & Martin Foos (2015) She is survived by her daughter Christine (Dennis) Spangenburg; her sons, Mark (Joanne) Henchen, Donald (Denise) Henchen, James Henchen & Michael (Nancy) Henchen; her 12 grandchildren, Scott (Elisabeth) Henchen, Brian Henchen, Lisa (Michael) Snyder, David (Jenna Berndl) Henchen, John (Sarah) Henchen, Karen (Chad Smith) Henchen, Tamara Henchen, Haley Henchen, Samantha (Robert) Mendenhall, Carrie (Todd) Zigrosi, Jay Henchen & Jeff (Jill) Henchen; her great-grandchildren, Evan, Benjamin, Alexis, Elaina, Brooke & Ashley Henchen, Dylan Smith, Harvey & Vyla Mendenhall, Julia & Emily Zigrosi, Ryan & Alison Henchen & great-grandson-to-be (1/2018), Logan Snyder; her brother, Robert Foos & her sisters, Mary Foos and Marguerite Hempel.
Therese was a woman of many talents. She taught calligraphy for many years and enjoyed crafts, gardening and her lawnwork. She was a member of her church choir, the Human Development Committee and formerly a member of the Rosary Society. Therese was an election inspector for 40 years, as well as a volunteer at the St. Peter's Soup Kitchen, and she regularly donated blood to the Red Cross.
Friends may call Thursday, November 30th from 2-4 and 7-9 p.m. at Thomas E. Burger Funeral Home, Inc., 735 East Avenue in Hilton. A Funeral Mass will be held Friday, December 1st at 10:00 a.m. at St. Lawrence Church, 1000 N. Greece Rd. Interment will be held in Parma Corners Cemetery.
In lieu of flowers, those wishing may contribute to St. Joseph's House of Hospitality, P.O. Box 31049, Rochester, NY 14603 or a charity of your choice in memory of Therese.