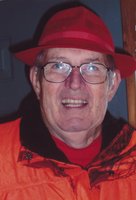 Kenneth E. Gavigan
Hilton: Kenneth E. Gavigan passed away peacefully on Satuday, September 30, 2017 at the age of 81. He is survived by his loving family: wife of 62 years, Mary Eichas-Gavigan; his daughters, JoAnn (Thomas) Renn; Victoria (Kenneth) Baert; his son, Christopher (Mary) Gavigan; his grandchildren, Jordan, Whitney & Parker Renn, Katia & Cody Baert, Candace Gavigan and Nicole (Patrick) Stickney; his great-grandchildren, Dallas & Dalton Stickney; his twin brother, Kermit "Cy" (Marjorie) Gavigan; his sister-in-law, Betty (Robert) Wilhelm; his Eichas-in-laws, Bea, George, Art, Jude & Anne, Robert & Maria, Charles Eichas and Theresa Blodgett; his many nieces, nephews, cousins and friends.
Ken was predeceased by his parents, Warren and Fannie; and his brother, Warren Gavigan, Jr.
Ken was a good man with intact values, gentle, peaceful and witty. He was a lifelong outstanding athlete and avid outdoorsman, especially enjoying hunting. He was devoted to his family and his faith. Ken was a master cabinetmaker, inventor and problem solver. Much of his life was spent volunteering in his community and his church. Everyone else's needs always superseded his own.
Family and friends may call Thursday, October 12th from 4 -7 p.m. at the Thomas E. Burger Funeral Home, Inc., 735 East Avenue in Hilton. Ken's Funeral Mass will be held Saturday, October 14th at 11:00 a.m. at St. John the Evangelist Church, 55 Martha Street in Spencerport, officiated by his friend Rev. John Loncle. Interment will be at St. John's Cemetery in Spencerport.
Donations can be made in memory of Ken to Pulmonary Fibrosis Foundation, 230 East Ohio St., Suite 500, Chicago, IL 60611, or Hildebrandt Hospice Care Center, Attn: Donation, 3111 South Winton Road, Rochester, NY 14623-2905.