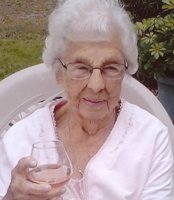 Mildred F. "Midge" Leverenz
Hamlin: Mildred passed away peacefully, August 9, 2017 after a brief illness at the age of 95. She was predeceased by her husband, Fred and daughter, Geraldine "GeGe" Hain. She is survived by her daughter, Bonnie (Tom) Dobson; her grandchildren, Jeff (Beth) Dobson, Todd (Channon) Dobson, Shelley (Benjamin) May, Richard and Wendy Hain; her 9 great-grandchildren; 7 great-great grandchildren; her several nieces & nephews, including special niece, Darlene Nichols; and devoted friend, Lois Kaiser.
There will be no prior calling hours. A Private Graveside Service will be held at Lakeside Cemetery. Those wishing may contribute to St. John Lutheran Church, 1107 W. Lake Rd., W. Fork, Hamlin, NY 14464 in memory of Midge.