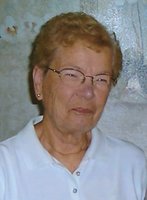 Joyce L. Eichas
Hilton: Peacefully, August 5, 2017, Joyce Eichas, 89. She is survived by her husband of 66 years, George; her children, Gerald (Leigh), Gregory (Cheryl), James (June) and Richard (Anne) Eichas; her brother, Robert (Marlene) Luffman; her sister, Celia (Fred) Gerlach; her 13 grandchildren, Jill Samson, Kate Bates, Amanda Masters, Scott, Matthew, Brian, Claudia, Alexander, Krystal, Michelle, James, Sarah & Amanda Eichas; 16 great-grandchildren, Alexander & Abigail Samson, Levi & Devin Bates, Nicholas & Nathan Masters, Maria, Sam, Robert, Steven, Caleb, Jacob, Zachary, Aiden, Maximus & Alexander Eichas; and many nieces, nephews and friends.
Joyce always cherished being surrounded by her loving family. She enjoyed playing cards including bridge, golfing, reading and traveling. She always felt she has had a wonderful life with many friends here and in Florida.
There will be no prior calling. Friends are family are invited to attend her Funeral Mass at St. Lawrence Church, 1000 N. Greece Road, Friday, August 11, 2017 at 9:30 a.m. Private Interment will be held in St. John's Cemetery, Spencerport. Those wishing may contribute to the American Cancer Society Lakes Region, 1120 South Goodman St., Rochester, NY 14620 or a charity of your choice in memory of Joyce.